John's Pass Village Boardwalk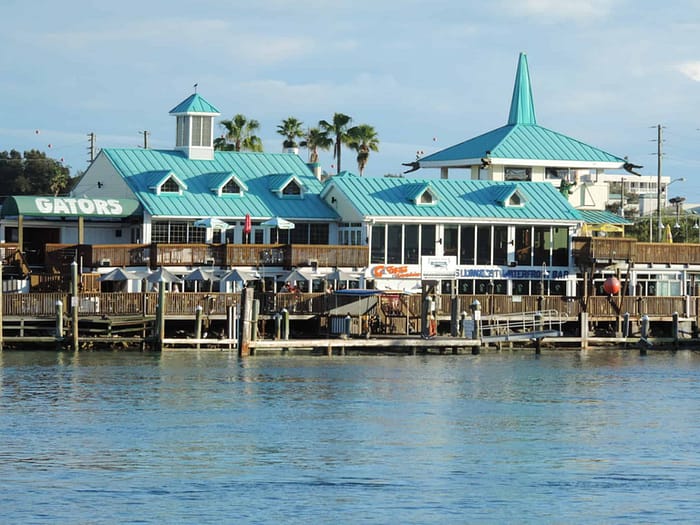 For a break from the beach, check out John's Pass Village & Boardwalk in Madeira Beach. With more than 100 retailers, restaurants and attractions. So your visit here can easily turn into a full day of fun. Shop for classic Florida souvenirs in the tin-roofed village or enjoy seafood and casual fare al fresco. Above all hit the boardwalk for a view of (or ride on) the water – fishing charters, water sports rentals and cruise boats await.
Explore the Gulf With a Water Sport Rental or Charter
The Boardwalk sits on the inlet that connects the Gulf of Mexico with Boca Ciega Bay, and those blue waters call loudly. Lucky you: The boardwalk is full of ways to get on the water, from boat and personal watercraft rentals to parasailing excursions and deep-sea fishing charters. John's Pass WaveRunners is one place where you can rent single- and multi-person crafts by the hour (you must be 14 or older to rent). Once you're equipped with a life jacket and watercraft, seek out quiet coves to practice turning, and keep an eye out for dolphins. Dolphin Quest makes dolphin-spotting its mission; you can keep an eye peeled on the waters of Boca Ciega Bay when you're out on their 40-foot catamaran.
Dig in at the Boardwalk Restaurants
Back at the village, scout your lunch or dinner spot. For bar fare, salads and sandwiches with live music and a waterfront view, you can't beat The Hut. Upstairs, Sculley's Restaurant emphasizes fresh seafood and those same stunning views from its rustic deck. Other great options: Walt'z Fish Shak, a driftwood shack sporting reggae colors where you'll find a perfectly delicious grouper sandwich and outrageous yucca fries, and DeLosa's Pizza & Italian Restaurant, which serves up mouth-watering hand-tossed pies. Treat yourself to ice cream at one of the village parlors—Sugar Daddy's and Kilwin's sell yummy homemade premium scoops. Afterwards, make your way back to the boardwalk for some retail therapy.
Pick up Keepsakes at the Florida Boardwalk Stores
Retailers specialize in all things Florida (picture surf shops, coastal art and island apparel). Stock up on souvenirs and don't leave without saying hello to the folks at Florida Winery – they'll offer you a complimentary taste of their wines crafted with Florida citrus and berries.
While you're there, make preparations for how you'll spend the evening – a sunset cruise might be just the thing.
Enjoy Some Family Fun on Pirate Ship Cruises
The Pirate Ship at John's Pass operates cruises daily that are utterly family-friendly. For young passengers, the two-hour cruises are exciting, with water-gun battles, limbo contests, treasure hunts, face-painting and pirate stories. For the over-21 set, beer and wine can complement the views. Anyone can appreciate the experience of heading out into the bay with a fun-loving crowd and the skull-and-crossbones flag flying high atop the ship's masts. If you've yet to spot any dolphins, now's the time to give it your best shot.
Accommodations
Beach Place Condo Rentals by G&Js Management Services